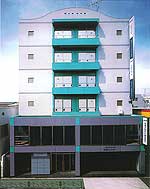 Nihon Almit

Nihon Almit was founded in Japan in 1956, and was amongst the pioneers
of solder for aluminium - subsequently hailed as "the 11th Most Remarkable Invention"
by the Japanese Science and Technology Organisation.

Growth continued apace throughout the '60s, the company building a purpose made
R&D establishment in 1967, and transferring its Head Office to its present location in 1968.

Product development expanded throughout the '70s, and so did the collection of awards
and accolades - not least the R&D award from the Venture Enterprise Centre. The
invention of a solder capable of joining nickel-chrome wire to bi-metal in 1976 added to
the already impressive range.





The excellence of the products and continual expansion of the range lead, in 1982,
to the adoption of KR19RMA by NASA for use in the Space Shuttle. In 1984, a further
R&D establishment was founded in Akiruno City, enhancing the company's deep
commitment to evolving superior specialist solders in a decade where the electronics
industry was being transformed. Once again, in 1985, VEC honoured the company with
its R&D award, accompanied by the 10th Invention Grand Prix, and also the
Distinguished Service Award from the Tokyo Metropolitan.

The '90s continued to see the opening of new offices and factories, both in Japan
and overseas in mainland Europe and the UK. The surging development in electronics
production techniques was consistently reflected in the product range, enabling
manufacturers to produce advanced designs quickly and cost effectively.

Now we have entered the 21st century, Almit is taking on the challenge of
environmental concern. Whilst adhering to the principles of minimising pollution
and being as environmentally friendly as possible, the long term benefits of the
introduction of 'Lead-Free' solders will make a useful contribution to the
protection of the environment.






Almit Ltd

Almit Ltd, the UK arm of Nihon Almit, was formed in 1995. Originally
based in Ashurst Wood, West Sussex, a steady growth in demand necessitated
a relocation to the current site at Forest Row, East Sussex. In this modern
facility, warehousing capacity doubled and production facilities became possible.

The increasing market for these superior solders has been reflected in the 
continual growth of the company, with an increase in the number of Technical
Sales and Production staff to accomodate the needs of customers.

Director Peter Martin originally trained as an engineer and has an indepth
knowledge of the industry. "We take great pride in our products", he commented,
"the Almit range of products cover practically every requirement. True to the
aims of quality, reliability and consistency, repeat business is a norm, not an
exception!".

Certainly, satisfied customers are always impressed with the minimal reworking
and reject rates, and coupled with Almits' high levels of customer service, it's
no wonder that the company grows from strength to strength.